Street Sweeper Design
Regenerative Air System
---
True Regenerative Air
TYMCO sweepers are the only sweepers on the market that is designed with a true Regenerative Air System. True Regenerative Air uses a high-efficiency multipass, cylindrical, centrifugal dust separator to clean the air before it passes to the blower coupled with a controlled jet of air directed through a blast orifice to dislodge debris from the paved surface. The concentrated high velocity air is blasted into cracks and crevices removing all different sizes of debris from the fine dust particulates to larger debris such as trash, leaves, rocks and dirt. All debris removed from the paved surface is directed up the heavy duty suction hose into the hopper.
Centrifugal Dust Separation
TYMCO sweepers are also the only sweepers with a high-efficiency multipass, cylindrical, centrifugal dust separator that continuously cleans the air in the closed loop air system thus keeping the dust and fines inside the hopper without additional filters or baffles to clean or replace. True Regenerative Air means a TYMCO never exhausts polluted air into the atmosphere like other air and vacuum sweepers which are designed to continuously exhaust air.
Operator Friendly Design
---
Operator Friendly Controls
TYMCO's BlueLogic® control systems utilizes lighted rocker switches for easier visibility when sweeping city streets, state highways, construction sites, parking lots, and garages at night. From within the cab, the operator can control the auxiliary engine throttle, pick-up head, gutter brooms, dust control water system, all warning lights and the pressure bleeder. The BlueLogic® control system also includes a tachometer, oil pressure gauge, coolant temperature gauge, volt meter, hour meter and automatic shutdown system for the auxiliary engine where applicable.
Smart Gutter Broom
TYMCO's innovative gutter broom provides excellent performance by automatically applying as much pressure as needed to "dig" debris from the deepest curbs or gutters. If the gutter broom encounters an immovable object, it will automatically retract to avoid potential damage and return to the original position once the immovable object has been passed, all without intervention from the operator.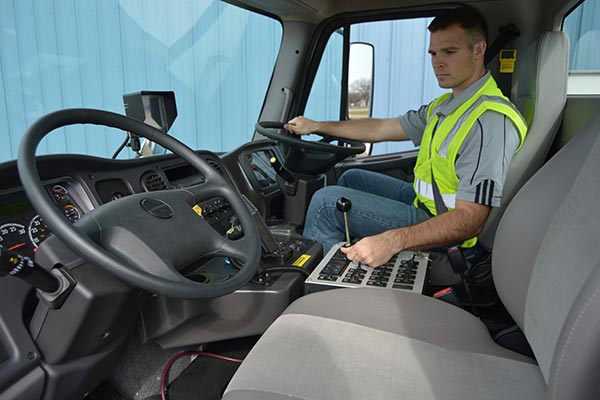 Low Maintenance
---
More Sweep Time
TYMCO's Regenerative Air Sweepers are designed for low maintenance. This allows them to maintain your sweeping schedules, not remain in the shop for extensive routine maintenance required by other street sweepers. TYMCO'S sweepers are built with fewer moving parts which means less downtime and more sweep time.
Easy Access to Components
TYMCO'S sweepers are chassis mounted with easy access to all components. The ability to service the auxiliary engine and hydraulics without raising the hopper greatly reduces routine maintenance time.
Easy to Upgrade
The TYMCO Engineering Department designs product improvements and options with emphasis on easy-to-install retrofit kits for existing TYMCO Sweeper owners.
High Productivity
---
From Leaves to Millings
TYMCO's pick-up head is designed to work effortlessly with the TYMCO Regenerative Air System to pick up a wide variety of debris from light trash and leaves to heavy dirt, sand and rocks. The pick-up head also performs in removing extremely heavy debris such as gravel, chip seal aggregate as well as asphalt and concrete millings. Without the use of any gutter brooms, the TYMCO pick-up head sweeps a wider path than other mechanical broom or vacuum street sweepers.
100% Aluminum Alloy Blower
TYMCO sweepers are the only sweepers that utilize a super-efficient aluminum alloy blower that is self-cleaning and reduces fuel consumption because of its lightweight design requiring less horsepower. The blower is designed to work with the TYMCO Regenerative Air System to both push and pull air which delivers even greater sweeping performance. The blower has a natural rubber coating that provides maximum wear against abrasive debris (Optional on the Model 210 and 210h).
The Cleanest Sweep
Streets, roads, highways and other paved areas swept with a TYMCO Regenerative Air Sweeper are simply cleaner. Concentrated high velocity air is forced into cracks and crevices removing fine dust particulates as well as larger debris such as leaves, trash, dirt, gravel and rocks.