Studies & Articles
Significance: This study was conducted by the US Geological Survey (USGS) in Cambridge, Massachusetts and examines the make-up of street cleaning spoils characterized by organic carbon, total phosphorus, and 31 other elements. Street dirt samples were also characterized by particle size, nutrients, metals, and PAHs. The study then examines the pick-up efficiency of a TYMCO DST-6 (a dustless regenerative air street sweeper), and then uses the Source Loading and Management Model (WinSLAMM) to compare the ability of the TYMCO DST-6 to the abilities of both mechanical broom and vacuum sweepers to reduce solids and phosphorus contributions to the Charles River.
Street cleaning frequencies were modeled monthly, bimonthly, weekly, and three times per week. WinSLAMM results showed that sweeping once per month with a regenerative-air street cleaner was more effective at reducing solids and phosphorus contributions to the Charles River than sweeping three times per week with mechanical or vacuum sweepers.
Read Summary
Download Report
Significance: This review article examines the available literature on street cleaning technologies, their history, and pick-up efficiency to date. It also examines the characteristics of street cleaning spoils, including metals, organic contaminants, and nutrients, explains the relevance of street cleaning technologies to ecological and human health risk, and makes recommendations for future research.
No standardized protocol for evaluating street cleaning technologies presently exists; therefore, it is difficult to compare the different technologies amongst different studies. The limited existing literature on the subject does however point to regenerative air as the most effective technology for stormwater and air quality improvement. This article suggests using a tiered approach to future street cleaning technology evaluations by introducing variability one step at a time.
Download Article
Significance: As a result of the TYMCO Model DST-6 ETV performance claims for PM10 and PM2.5, the City of Hamilton, Ontario, Canada replaced its fleet of sweepers with Model DST-6 dustless regenerative air street sweepers. The use of these sweepers, along with other control measures employed in a fugitive dust control workshop held for local stakeholders in late 2006, helped the City reduce its ambient PM10 by 35%.
Ambient PM10 air concentrations were reduced from 114 µm/m3 to 73 µm/m3 in an industrial area when comparing monitoring data on various dates from 2005 to 2006 before the workshop, to data collected post-workshop on various dates from 2007 to 2010.
Download Article
Significance: The City of San Angelo, Texas was able to double its pick-up of street dirt from 200-250 tons of pollutants to 400-450 tons per month by switching from three mechanical sweepers to five TYMCO Model 600 regenerative air sweepers, in an effort to reduce bacteria and depressed dissolved oxygen running into the impaired North Concho River.
Similarly, the City of Tacoma, Washington replaced its fleet of mechanical street sweepers with TYMCO Model 500x regenerative air sweepers and was able to reduce total solids entering Commencement Bay via the Foss Waterway by more than half and also reduced the maintenance downtime of its sweeper fleet from 40-50% when using mechanical sweepers to 10-15% when using TYMCO Model 500x Sweepers.
Read Article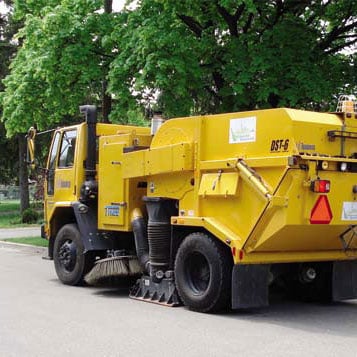 Significance: This article gives the background of the City of Toronto "Clean Roads to Clean Air" initiative designed to reduce ambient particulate matter (PM10 and PM2.5). Part of this initiative shows that utilizing dustless regenerative air street sweepers results in a significant reduction of ambient PM10 and PM2.5 entrainment over mechanical sweepers.
Read Article
Clean Roads to Clean Air Program