Purchasing Options for TYMCO Sweepers
Cooperative Purchasing Contracts
---
Sourcewell's cooperative contract purchasing leverages the national purchasing power of more than 50,000 member agencies while also streamlining the required purchasing process. As a municipal national contracting agency, Sourcewell (formally NJPA) establishes and provides nationally leveraged and competitively solicited purchasing contracts under the guidance of the Uniform Municipal Contracting Law. Joint Powers laws enable members to legally purchase through awarded contracts.
View Video
View Contract # 111522-TYM Info PDF
View Contract # 122017-TYM Info PDF
View Reference Guide PDF
Go to Website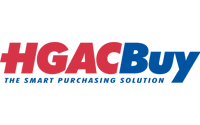 HGACBuy is a "Government-to-Government" procurement service available nationwide. Governmental entities have been procuring products and services through HGACBuy for over 30 years. As a unit of local government assisting other local governments, HGACBuy strives to make the governmental procurement process more efficient by establishing competitively priced contracts for goods and services and providing the customer service necessary to help its members achieve their procurement goals. All contracts available to members of HGACBuy have been awarded by virtue of a public competitive procurement process compliant with state statutes.
View Video
Go to Website
The Local Government Purchasing Cooperative was created to increase the purchasing power of government entities and to simplify their purchasing by using a customized electronic purchasing system, called the BuyBoard.
Membership is open to school districts, cities, counties, and other entities.
The BuyBoard allows members to make confident buying decisions and streamline the purchasing process.
Go to Website
Municipal Leasing
---
If you need a sweeper now, then TYMCO's Municipal Lease Purchase Program is for you. We can custom tailor a finance plan to meet your needs at a competitive, fixed interest rate. A TYMCO Municipal Lease Purchase allows any governmental entity to obtain a high-quality TYMCO Regenerative Air Sweeper without the cost and hassle of a bond referendum, little or no down payment and best of all – no backend fees, charges or pay-offs. Also, there is no prepayment penalty for early payoff. At the end of the lease term, upon payment of the last installment, the TYMCO Sweeper is yours to keep.
Who is eligible for TYMCO's municipal lease purchase program?
If you are one of the following entities and interest on your debt obligations is considered exempt from Federal taxation, you are eligible:
State Governments
Villages
State Agencies
Airports (Municipal)
County Governments
Sanitation Districts
Municipalities
Townships
State- Funded Universities & Schools
Public, Tax Supported Institutions*
* Even if you do not fit one of these categories, contact us and we will find out if you can qualify!
What exactly is a municipal lease purchase and how does it work?
A tax-exempt municipal lease purchase is a useful tool for cash flow management. Municipal leasing conserves working capital and is a viable alternative for acquiring assets without large cash expenditures. By utilizing a municipal lease purchase you avoid the following:
Large cash payment for outright purchase
Short-term rental (which is expensive)
Issuance of a long term debt instrument (which is costly, time consuming and requires voter approval).
A municipal lease purchase is an installment purchase program. It is not a rental agreement nor does it create a debt obligation for the governmental unit. Municipal leasing allows the lessee to make installment payments which include principal and interest and to build up equity in the sweeper over the term of the lease. At the end of the lease agreement, the lessee owns the sweeper outright free and clear.
The municipal lease purchase contract includes a non-appropriation clause that confirms payments shall be made from the lessee's operating budget or capital appropriations for the current fiscal period. The lease is renewed each budget year for the term of the agreement.
What TYMCO does for you:
We prepare all the documentation. All we require from you are the authorized signatures
Since we are also the manufacturer, we work closely with the Dealer on delivery and installation of your unit to ensure a smooth and problem-free start up
Our full-time Municipal Lease Purchase staff is available to serve you and will work with you from the inception of the lease to the last payment
We are only a phone call or e-mail away. If you have any questions or comments, feel free to contact us now.
Commercial Leasing
---
A plan just for you
TYMCO has custom tailored a Finance/Lease program to assist its commercial customers in obtaining the payment and rate they deserve. We have established business relationships with several leading financial institutions that specialize in equipment financing & leasing. We can obtain a quote for you quickly and will assist you in every step of the lease process.
One of the big questions that a sweeping contractor has to ask himself is "Should I pay cash, finance or lease my new TYMCO?" There are pros and cons to all three methods of purchasing your new TYMCO sweeper.
1. Paying cash
When you purchase a piece of equipment with cash, you own it outright, you can do with it as you please, it can be used as collateral for a loan, and you may sell it at any time with clear title. You may also depreciate the cost of the equipment over a set period of years for tax purposes. The down side is you are out of pocket a large sum of money that could be used for other business expenditures.
2. Financing
When you finance your sweeper at the bank, credit union or with another financial lending institution, you usually have to pay a percentage (10% – 20%) of the cost as a down payment and then make Principal and Interest (P&I) payments for a fixed number of months. This means you have to pay some money out of your pocket up front but get a fixed interest rate over time. At the end of the term of the loan, you would own the equipment outright. A potential downside is that it is a financed asset and would be reflected on your balance sheet, which may hinder further credit purchases.
Financing example: 60 Month, 10% Down Loan
Price: $100,000.00
Down Payment: $10,000.00 (10%)
Finance Amount: $90,000.00
Term: 60 Months
Monthly Payment: $1,782.11 in arrears
Rate: 7.00%
Factor: .0198012
*Operating cost, values, and percentage rates are shown as an example only, please research and verify.
3. Leasing
There are many types of leases available in today's marketplace. The most common are $1 Buy-out, 10% Purchase Upon Termination (PUT), Operating or Market Value Leases and TRAC leases. These leases are each a little different and have advantages and disadvantages unique to each type. The most common are $1.00 Buy-Out and 10% TRAC leases. Even though you don't own it, you will be responsible for maintenance, insurance, and taxes. You also may, in most cases, write-off the lease payments as a business expense for tax purposes (consult your tax professional).
Leasing example: 60 Month, 10% Residual, TRAC Lease
Price: $100,000.00
Term: 60 Months
Residual: $10,000.00 (10%)
Monthly Payment: $1,829.77 in advance, 1st pmt. due on delivery
Rate: 7.00%
Factor: .0182977
*Operating cost, values, and percentage rates are shown as an example only, please research and verify.